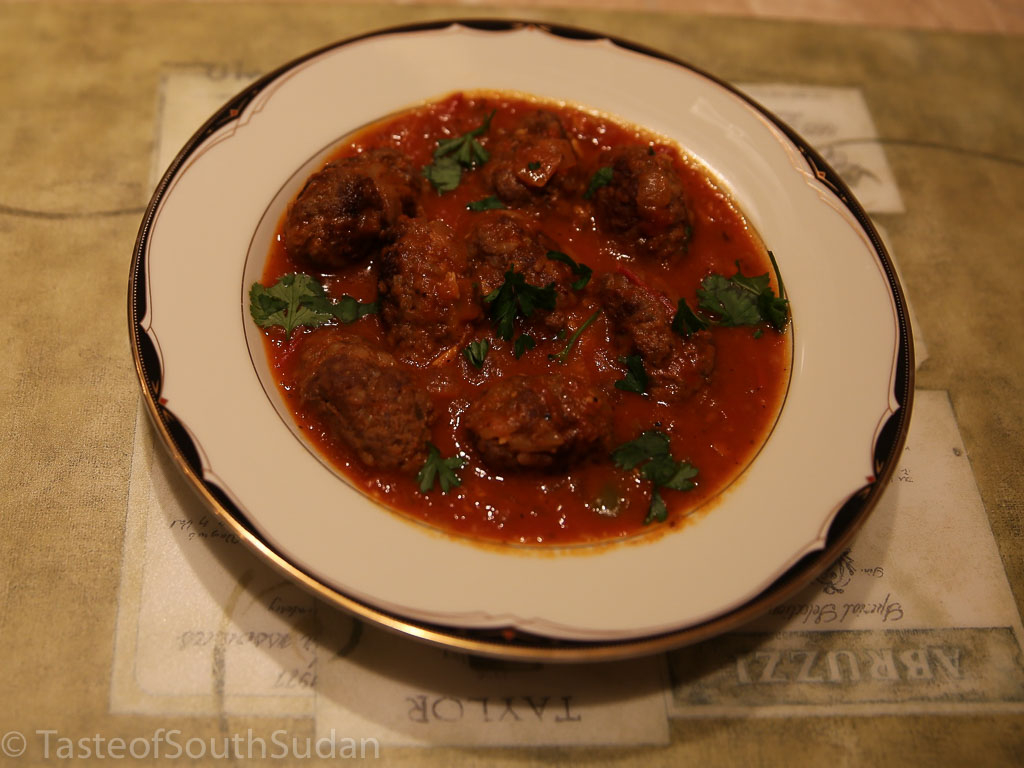 Kofta, meatballs in tomato sauce.
Kofta is the quintessential South Sudanese soul food; rich, spicy, flavorful and just plain yummy. It is the first thing to go in a party. You know it is a special occasion when your mother cooks kofta at home. This is how to make kofta: Mix minced meat with a variety of spices, minced onions and undercooked rice into oval shaped meatballs. Fry the minced meatballs in a cast iron pan. Separately cook a hearty thick stew of onions, tomatoes and tomato paste, and add fried meatballs to soak  in the stew.
Please do not confuse kofta with Italian meatballs and spaghetti, which I find bland and sweet. Kofta is 10 times tastier, as it is cooked with tender loving care using fresh ingredients. Kofta is often times eaten with bread.
Kofta recipe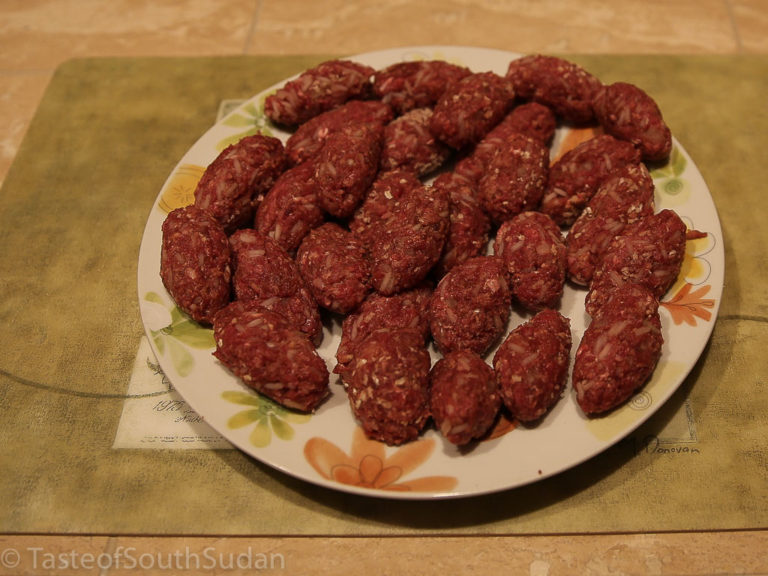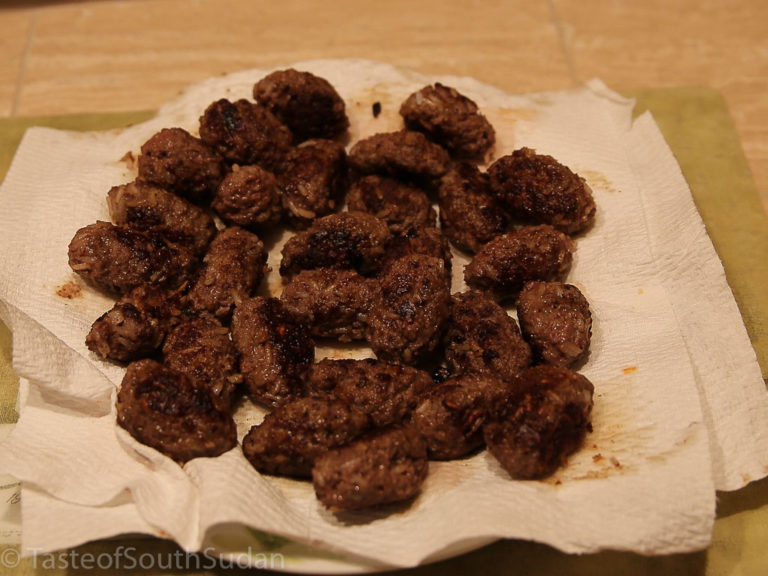 Recipe
Kofta, meatballs in tomato sauce
Kofta is spiced minced meatballs fried and cooked in an aromatic spicy stew of onions and tomatoes, eaten with bread.
Cuisine:
African, South Sudanese
Ingredients
1.5 pounds of minced meat
Onions, diced
¼ cup of rice boiled in water for 15 minutes to get it halfway cooked
Spices: Freshly ground black pepper, coriander seeds, cumin, cinnamon. I use a pestle and mortar to grind these.
Garlic: I use a pestle and mortar to make it into a paste.
Instructions
Mix the minced meat with 1 teaspoon of the the above spices, ¼ of an onion finely sliced, salt. Add the partially cooked white rice. Add salt. Mix thoroughly using hands.
Shape into oval meatballs.
Fry in a cast iron pan on medium heat, with a low amount of oil. The goal is to brown the outside and cook on the inside, please note this is not a deep fry. It took me 5 minutes to fry each batch.
Set that aside and work on the tomato sauce. It took me about 30 minutes to make the sauce.
Add 1 teaspoon of oil to a pot, fry the diced onion until golden brown.
Add 4 tomatoes, diced. Keep stirring, add small amounts of water to prevent burning. As it cooks use edge of wooden spoon or your lofrega to mash the onions and tomatoes.
Add 1 tablespoon of tomato paste and ½ cup of tomato sauce.. This is to thicken the sauce.
Add 1 tablespoon of garlic paste.
Add the rest of your spice mix.
Slice 1 green pepper and add to the stew mix.
Add the fried meatballs to the stew, cover and cook for 15 minutes.
Turn heat off.
Sprinkle fresh chopped parsley to add color. Serve.