Hibiscus sabdariffa Flower Drink Karkade
"This is the best natural herbal drink in the world. It is delicious, tangy and great as a cocktail mix. I drink it hot and cold."   Census Kabang Lo Liyong.
Taste of South Sudan shop is all about bringing you authentic natural herb of Hibiscus Flowers. We sell high quality Hibiscus sabdariffa dried flower petals. The drink of Pharoahs!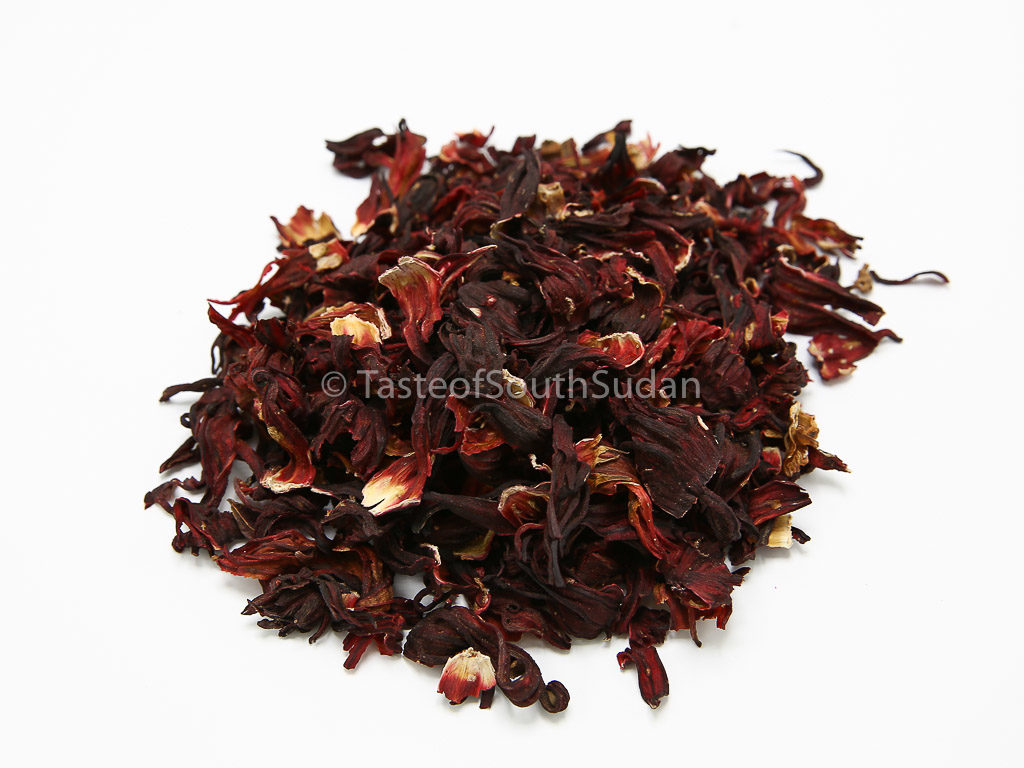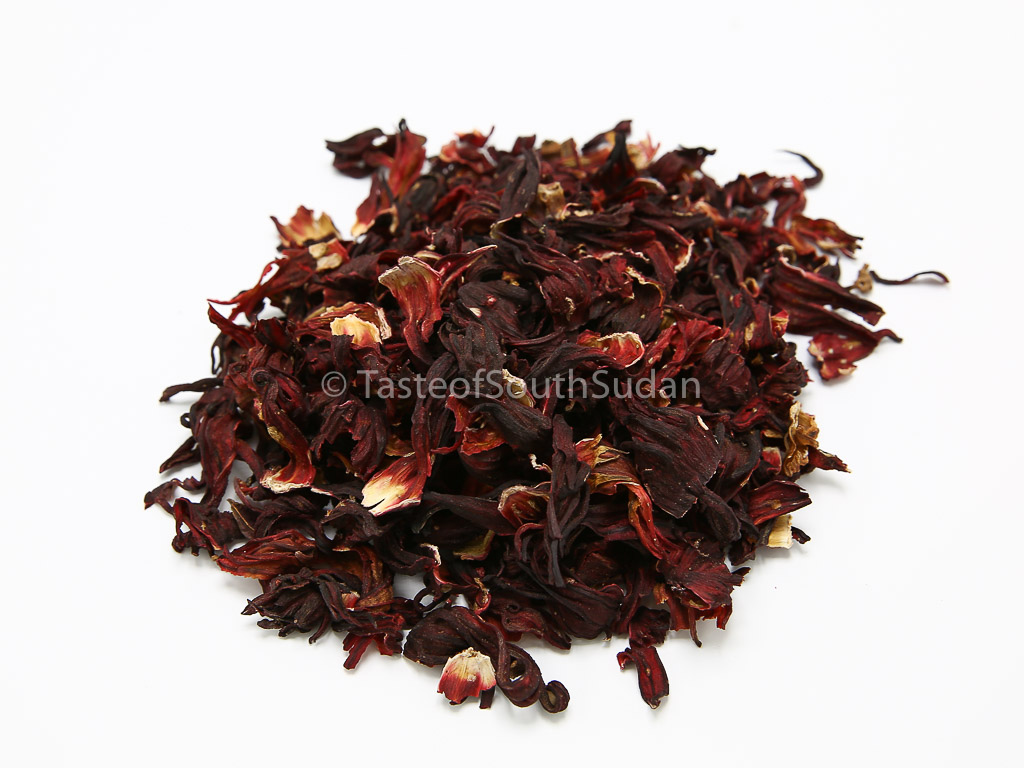 History of Hibiscus sabdariffa
Hibiscus sabdarrifa flowers, called Karkade in Sudan, South Sudan and Egypt, is a red flower petal that is dried and steeped in water to make a herbal tea. It is a tropical plant native to Malaysia and India, and widely distributed in North Africa and the Sahel – and West Africa. Brought to the New World by African Slaves, the plant is grown in Jamaica, West Indies, Mexico, Guatemala, and in the United States in Florida, California and Puerto Rico. Due to its wide distribution it goes by many names around the world: African Mallow, Jamaican Sorrel, Flor-de-Jamaica in Mexico, Karkade in Egypt and Sudan, Zobo or Bissap in West Africa.
How do I Use Hibiscus sabdariffa?
Hibiscus Sabdariffa dried flower petals have many uses. I will highlight a few.
HERBAL TEA:
Hibiscus flowers make a herbal tea that is consumed hot or cold. Steep dried flowers in hot water for immediate use, or in cold water for a few hours.  The taste is tart, cranberry-like flavor, frequently sweetened with sugar. The video above by Taste of South Sudan shows how to make Hibiscus Flower Drink Karkade.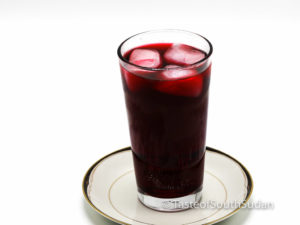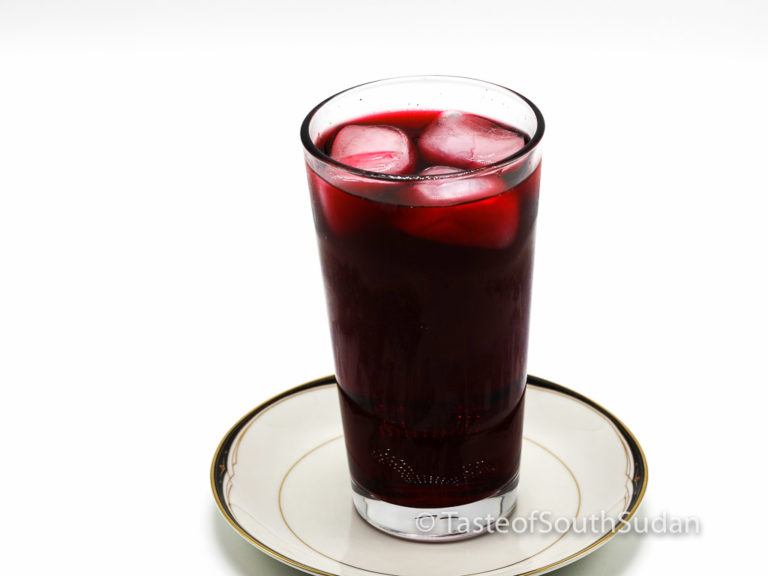 BENEFITS OF CONSUMING HIBISCUS HERBAL TEA
Hibiscus sabdariffa contains Vitamic C and minerals.
Reported to lower blood pressure, a mild effect.
Caffeine-free
Carbonation free
Calming effect
Refreshing, tart, cranberry-like taste. Sugar is optional.
Cold drink for hot summer days
Hot tea for winter days
FOODS:
It is a flavoring added to foods to improve the color, odor or flavor. It is used in baking and pastries. Hibiscus flowers are made into jellies, jams and syrups. Hibiscus flower extract flavors liqueurs.
CRAFTS:
Mix dried Hibiscus petals with other dried flowers to create colorful sweet smelling potpourri.
SOAP:
Dried hibiscus flower powder incorporated in artisan soap making create colorful designs, and the dried flower petals add variations of design.
CONDITIONERS:
Dried hibiscus flower powder are used in home made conditioners to nourish and color hair.
DISCLAIMER
The information presented herein by Taste of South Sudan is intended for educational purposes only. These statements have not been evaluated by the FDA and are not intended to diagnose, cure, treat or prevent disease. As always before consumption of any substance, it is advisable to consult with your own health care provider.